SLIDE GATES
Model GH-40 Aluminum & GH-44, GH-46 Stainless Steel Slide Gates
---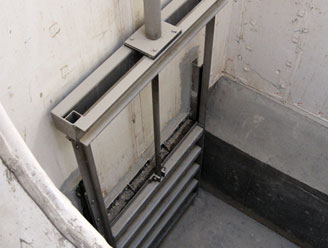 Submerged Service or Open Top Gates for Seating and Unseating Applications
Flexible Design Customized to Fit Most Project Applications
Fully-adjustable Sealing System
Meets AWWA Leakage Standards
Golden Harvest Inc. Fabricated Slide Gates are the industry standard for price and performance. UHMW seating faces in guide grooves and neoprene face seals provide for low leakage solutions at modest head levels. The resilient P-bulb seal design provides for a low leakage closure.
Standard mounting options include: flat-back for flush mounting to a wall face or wall thimble, embed mounting for new channel construction and in-channel mounting for existing channel retrofits. Golden Harvest, Inc. flat back designs are attached directly to the concrete wall without the need for any special block outs. A non-shrink grout pad is recommended so that the gate frame does not conform to possible imperfections in the concrete headwall during installation.
Stainless steel and aluminum construction provides virtually limitless design flexibility.
Slide Gate Models