RADIAL GATES
Model GH-8000 Radial (Tainter) Gates
---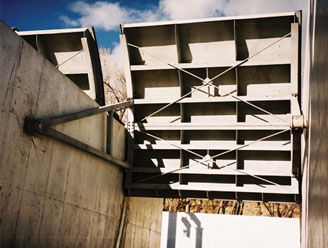 Open Channel or Spillway Flow Control
Increase Water Elevations and Upstream Storage Capacity
Flow Diversion
Efficient - Low Maintenance Design
Golden Harvest, Inc. Radial or Tainter Gates are most commonly used for flow control structures on flood control projects, hydropower projects and other large conveyance systems. The radial gate is typically designed for overflow service. Shutoff service radial gates are available with top seals when required.
General Design: The radial gate disc is designed for mounting in wide unobstructed waterways or spillways. An accurately curved disc transfers the hydraulic load through the spanning strong ribs to the attached radial arms. The two radial arms, located at the sides of the opening, then transfer the load into the trunnion pins and abutments.
Resilient seals are mounted across the bottom and up both sides of the gate to provide a tight seal in the closed position. Horizontal top seals are offered with the breast wall design. Stainless steel sill and side plates are set flush in the concrete to provide a smooth sealing surface.
Operation of the radial gate is achieved by means of tandem cable drum hoist coupled with an electric or manual actuator. Manual or electric lifts are provided with gear boxes of the self-locking worm gear type. Actuators are available with position indication, limit and torque switches, and automated opening and closing controls.