LEVEL CONTROL GATES
Model GH-9000 Constant Upstream Level Control Gates
---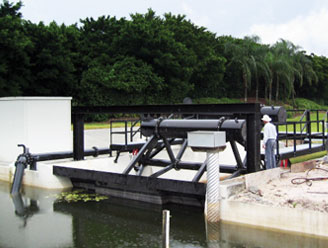 Self-adjusting Design Requires No Motors or Outside Power Source
Maintains Accurate, Constant Upstream Levels
21 Standard Sizes to Fit Most Flow Requirements
For Flood Control, Water Management Systems, Irrigation, Flow Equalization, UV Level Control and Clarifier Odor Control in Water and Wastewater Treatment
The Golden Harvest, Inc. Model GH-9000 Level Control Gate utilizes force-balance control to automatically maintain a constant upstream water level at any given discharge while minimizing head loss.
Sizes and materials of construction are available to meet a wide variety of flow control needs ranging from almost zero to 2000 cfs. The gate nearly closes at low discharge and progressively opens as the flow increases.
The level control gate operates completely free of outside power and after initial adjustment absolutely no manual intervention is required. While the initial purchase cost is competitive with other systems the GH-9000 offers substantial life cycle cost benefits. The costs associated with PLC relays, modulating actuators, maintenance, replacement and energy are relieved.
Water distribution networks utilizing the GH-9000 become simplified and cost effective as ditch riders are no longer required to periodically adjust gates or manipulate flash boards at GH-9000 check structures. Thus, a more accurate and flexible distribution system is made available, reducing costly time and water waste. In addition, damage due to overtopping of banks is eliminated as the level control gates operate instantly year round to relieve or maintain a wide range of flows.